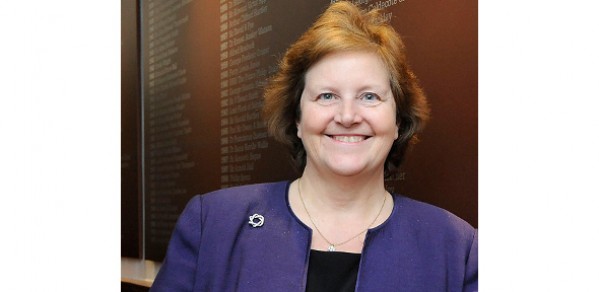 Ann was previously Head of the Energy, Fluid Mechanics and Turbomachinery Division here at the Department and Director of the University Gas Turbine Partnership with Rolls-Royce.
She was the UK lead of the Silent Aircraft Initiative, which gained a high international profile. This was a collaboration between researchers at Cambridge and MIT who have released the conceptual design of an ultra-low noise and fuel efficient aircraft, SAX40. Ann works primarily in the fields of combustion, acoustics and vibration and her research is aimed, in particular, at low-emission combustion and quiet vehicles. She has held visiting posts at MIT (Jerome C Hunsaker Visiting Professor, 1999) and at Caltech (Moore Distinguished Scholar 2001).
Ann Dowling is a Fellow of the Royal Society, Royal Academy of Engineering (Vice-President 1999-2002) and is a Foreign Associate Member of the US National Academy of Engineering and of the French Academy of Sciences. She serves on a number of industry and government advisory committees, and chaired the EPSRC Technical Opportunities Panel (2003-06) and the Royal Society/Royal Academy of Engineering study on nanotechnology. She was appointed CBE for services to Mechanical Engineering in 2002 and DBE for services to Science in 2007.
Ann will be building on the achievements of Professor Keith Glover who has been Head of Department for the past 7 years and under whose leadership the Department came top of the rankings for General Engineering in the last Research Assessment Exercise. The results placed Cambridge far ahead of other institutions in its class and the Department was shown to have the Best Engineering Research in the UK.