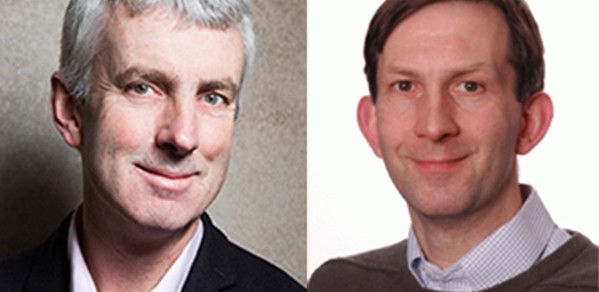 Congratulations to Professors Julian Allwood and Richard Prager on being elected Fellows of the Royal Academy of Engineering.
I'm so proud to welcome our new Fellows, who represent the very best of UK engineering. From technology giants to our universities' finest minds, our new Fellows demonstrate how engineering is tackling some of the biggest challenges facing the world.

Professor Dame Ann Dowling OM DBE FREng FRS, President of the Royal Academy of Engineering
Our congratulations also go to Tony Purnell, Royal Academy of Engineering Visiting Professor here at the Department of Engineering and Alumni Dr Caroline Hargrove, Technical Director, McLaren Applied Technologies and Dr Eben Upton, co-founder and Chief Executive Officer at Raspberry Pi, who have also been elected Fellows of the Royal Academy of Engineering.
Professor of Engineering and the Environment Julian Allwood is noted internationally for materials processing innovation and his work on mitigating climate change through reducing demand for materials and resources.
His development of laser ablation of toner-print and his work on interactive analytics for resource stress has led to the formation of spin-out companies. A £1 million implementation of his flexible metal spinning process enabled the manufacture of a new particle accelerator for medical diagnostics.
His book Sustainable Materials: with both eyes open has led the Intergovernmental Panel on Climate Change and the International Energy Agency in new directions.
Professor of Engineering Richard Prager has made a significant contribution to the development of three-dimensional ultrasonic medical imaging. His work is characterised by robust and efficient algorithms for use in a clinical environment.
He has also significantly advanced the development of engineering education in the UK through his leadership of the University of Cambridge's undergraduate engineering course.
Tony Purnell, Royal Academy of Engineering Visiting Professor here at the Department of Engineering, and Head of Technology at British Cycling. He founded Pi Group around his designs to build a highly successful global electronics business. The group was sold to Ford in 1999 and he was rapidly promoted to lead Ford's Premiere Performance Division, which included Cosworth and the Jaguar Formula One team.
Tony then joined the Federation Internationale de l'Automobile, pioneering the present hybrid engine regulations and campaigning for financial regulation in racing. Today, he leads the technology behind Team GB's cycling team and is responsible for the equipment and training tools used by the squad.
He is a Fellow at Trinity Hall and gives his time generously to the new generation of engineers at the University of Cambridge.
Alumna Dr Caroline Hargrove Technical Director, McLaren Applied Technologies. Caroline is distinguished for her pioneering simulation of human-machine interaction, initially in motor racing and subsequently in sport and medical applications.
She has been Technical Director of McLaren Applied Technologies since 2013, leading the engineering teams concerned with motorsport, elite and professional sports, transport, energy and medical services. These include surgical performance assessment and care path optimisation in the Nuffield Department of Surgery at Oxford, where she is a visiting professor.
She takes part in school and media events as a STEM ambassador, actively encouraging school leavers into the engineering profession. Caroline (nee Hogue) was a Lecturer in Mechanical Engineering at the Department of Engineering from 1993-97 and did her PhD under David Newland. 
Alumnus Ian Ritchey Group Chief Engineer, Rolls-Royce plc. Ian was appointed Group Chief Engineer at Rolls-Royce plc in April 2017, leading the global engineering function across the Company's five businesses. He has extremely broad engineering experience in industrial sectors including power generation, marine and aerospace, plus a short period in academia as Professor of Engineering Design at Newcastle University.
Alumnus Dr Eben Upton Chief Executive Officer, Raspberry Pi. Eben conceived and co-designed the low-cost, credit-card-sized Raspberry Pi computer with an aim to engage more children with computer science. Concerned with the dearth of upcoming computer scientists and inspired by Acorn's 1981 BBC Micro, Eben co-founded the Raspberry Pi Foundation to stimulate the teaching of basic computer science in schools.
Having created a prototype using a Broadcom chip, he went on to co-design and develop the open architecture single-board computer, which runs the Linux operating system. Since its launch in February 2012, the seven versions of Raspberry Pi have sold over 13 million units worldwide.
Each year, fifty of the UK's top engineers are elected as Fellows of the Royal Academy of Engineering, in a stellar list that includes some of the world's leading innovators and business people.
The fifty new Fellows of the Academy are joined by two new International Fellows and one Honorary Fellow, who will add their expertise to the Fellowship of 1,500 world-leading engineers from both industry and academia.
Professor Dame Ann Dowling OM DBE FREng FRS, President of the Royal Academy of Engineering, said: "Since 130 engineers were first called together in 1976 to form the Fellowship of Engineering, our Fellows have come together to advance and promote excellence in engineering.  I'm so proud to welcome our new Fellows, who represent the very best of UK engineering. From technology giants to our universities' finest minds, our new Fellows demonstrate how engineering is tackling some of the biggest challenges facing the world.  I look forward to working with them as we continue to make the UK a leading nation for engineering innovation and businesses."