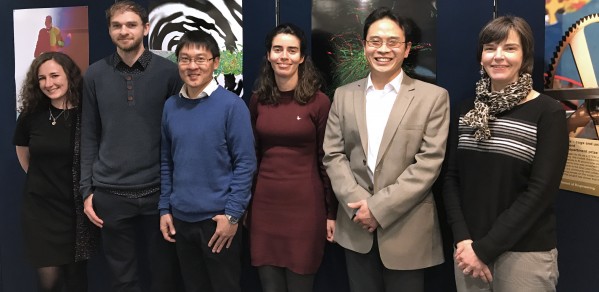 Imagery and video capturing 3D-patterned electrospun fibres, the real-time application of deep learning to a 'dancing man', and the flow structures and acoustic waves of a turbulent jet from an aeroengine, are among the prize-winning entries in the Department's 2019 ZEISS Photography Competition.
Sponsored by ZEISS (Scanning electron microscopy division), the winners of the Department's annual photography competition are announced as follows:
First Prize 
Awarded to PhD candidate Elisabeth Gill for her macro photo of complex fibrous architectures that can be designed with an electrospinning and 3D printing method that Elisabeth developed for her PhD. 3D-printed support pillars and applied voltage are used to pattern suspended gelatin microfibres with a technique called low-voltage electrospinning patterning.
Elisabeth said: "Being able to design free-spanning protein fibres is of interest for tissue engineering as they can act as a simplistic template for cells to assemble into tissue-like structures. We have utilised such structures to observe the migration of cancer cells in 3D, which models aspects of the environment the cells encounter in the body. A motivation is to develop such models further for fundamental cancer research or as a drug screening application."  
Second Prize
Dr James Charles, Senior Research Associate in Human Pose Estimation and Tracking in Video, won Second Prize with his video demonstrating the real-time tracking and segmentation of a 'dancing man', resulting from his research group's real-time deep learning based system. 
Dr Charles said: "When applied to video, tracking of individual people and their clothing items/body parts is accomplished by matching segments together along a temporal sequence. Our algorithm is also quite efficient and able to run in real-time live on a mobile phone. Such systems have many applications e.g. in making self-driving cars aware of the motion and behaviour of pedestrians." 
Third Prize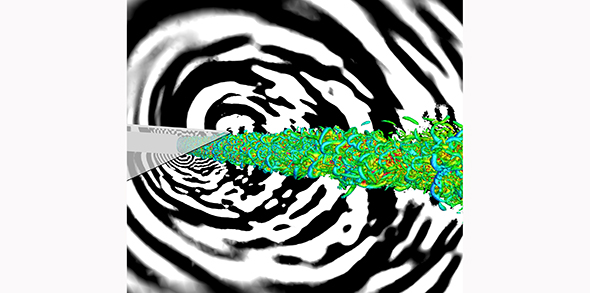 'Turbulence and Sound' won Third Prize. This flow-acoustic simulation by Dr Zhong-Nan Wang, Research Associate in Computational Fluid Dynamics, shows the noise generated from a turbulent jet interacting with a surface. The coloured isosurfaces show the turbulent structures and the background grey-scale contour shows the acoustic waves. 
Dr Wang said: "This is a flow-acoustic model for a modern aeroengine installed under a wing, revealing the installation noise generation mechanisms. In addition to the noise generated by the jet itself, a new sound source is produced by the jet-surface interactions with strong acoustic waves emitted at the surface trailing edge. The challenge is to reduce the level of this noise source."
Microscopy Prize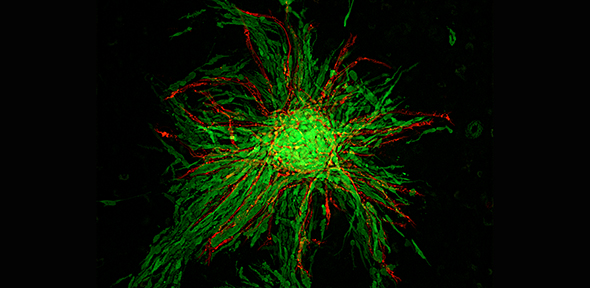 Awarded to PhD candidate Agavi Stavropoulou-Tatla for an image of a mini brain tumour (tumouroid) with blood vessels grown in the lab. Tumouroids can be used to study the interaction between brain tumour (glioblastoma) cells and blood vessel forming (endothelial) cells, offering a robust platform for the development of personalised therapies.
Agavi said: "This type of brain tumour, glioblastoma, is able to grow so quickly because it has the power to produce new blood vessels when needed. Moreover, it is highly infiltrative, and this is partially because tumour cells use blood vessels as 'highways' for their migration to  different parts of the brain. Thus, this biomimetic model could provide insight into the mechanisms that drive tumour new blood vessel formation and invasion along blood vessels, and serve as a personalised tool for targeted drug testing."
Head of Department Prize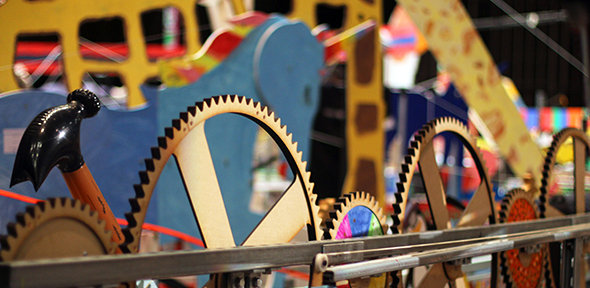 An image taken of a world record-breaking Science, Technology, Engineering and Mathematics (STEM) outreach project, involving 88 primary school children, has secured the Head of Department Prize. Fran O'Neill Sergent, Design and Multimedia Producer for the project, 88 Pianists, captured a close-up image of one of the 88 mechanisms designed by children in order to allow 88 individuals to play the same piano at the same time – one person/mechanism for each piano key – from seven metres away. The mechanisms thought up by the children included giraffe and unicorn-inspired designs, which can be seen in the background of the image.
Fran said: "88 Pianists began life as an exercise in inspiring young children to become engineers and evolved into those children inspiring us. This photograph was taken two days before the world record-breaking performance in Birmingham. The world record was smashed by 88 pianists, 40 engineers and 2,500 primary school designers. I'm incredibly proud to have played a creative role in this project which has had a profound impact on inspiring imagination in our wider work in climate change mitigation. I look forward to working on the development of our next exciting STEM engagement opportunity."
The slideshow below shows the 2019 entries.
The panel of judges for this year's Photography Competition included Roberto Cipolla, Professor of Information Engineering; Allan McRobie, Professor of Structural Engineering; Dr Kenneth Png, Senior Applications Engineer at ZEISS Microscopy Customer Centre Cambridge; Professor Richard Prager, Head of Department; and Philip Guildford, Director of Strategy and Operations.
Philip Guildford said: "These wonderful images show that Engineering has no boundaries – it reaches into all aspects of our world bringing understanding, progress and practical benefits."
View the shortlist.
View further images from the 2019 Winners' Presentation ceremony.
All of the 2019 entries can be seen on the Department's Flickr page.