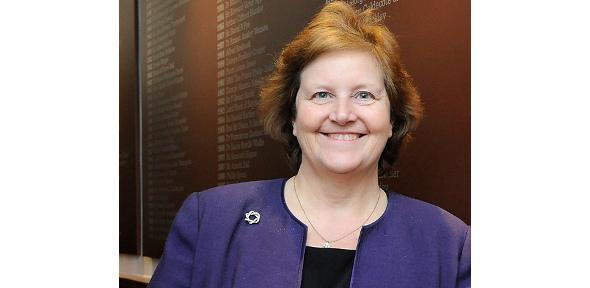 Professor Dame Ann Dowling, Head of the Department of Engineering, recently welcomed more than 250 invited guests from the construction industry and academia for the inaugural Laing O'Rourke Distinguished Lecture. Bill Baker, Structural Engineering Partner at Skidmore, Owings & Merrill LLP was the speaker.
Bill has worked on a number of innovative structures during his career. His best-known contribution has been to develop the "buttressed core" structural system for the Burj Khalifa in Dubai, at over 828m the world's tallest man-made structure.
His lecture, entitled "Inspired Dreams or Wilful Excess: the Ethical Dilemma of Iconic Structures", explored the challenges facing designers on both the technical and ethical front and examined the rationality underpinning the design and construction of a range of structures from the simplest to the iconic.
Professor Robert Mair, Head of Civil Engineering at Cambridge, thanked Bill for his inspiring lecture which illustrated the excitement and challenges of modern structural engineering.
The Distinguished Lecture Series has been established to recognise and honour excellence in the global construction engineering profession.
After his presentation, Bill was presented with the Inaugural Distinguished Lecture Award by Ray O'Rourke, Chairman and Chief Executive of Laing O'Rourke, who reaffirmed his view that our future is inextricably linked to the sciences and engineering.
The evening was also an opportunity to celebrate the launch of the newly established Laing O'Rourke Centre for Construction Engineering & Technology in the Department of Engineering at the University of Cambridge.
This new multi-disciplinary academic centre of excellence has been made possible by the vision and generosity of Laing O'Rourke who have made a multi-million pound commitment towards its establishment and operation.
The Centre aims to promote innovative thinking, research and teaching to provide a new vision for the shape of tomorrow's construction industry.
At a celebration dinner at King's College after the lecture, the Vice Chancellor, Professor Sir Leszek Borysiewicz, welcomed this new initiative and highlighted the impact of construction on all aspects of civilisation.
He cited the potential advantages to be gained from expanding the outlook of the centre to interact with a broad spectrum of disciplines spanning not only all the engineering sciences but also the biological and social sciences and the humanities as these can also offer insight into how our built environment impacts societies .
To conclude the evening, Dr Campbell Middleton, Director of the new Centre, invited those present to help develop the vision for its future. He also took the opportunity to promote the new part-time Masters degree in Construction Engineering at Cambridge which will admit its first students in September 2011.