The variety and beauty of engineering has been captured in prize-winning imagery submitted into our 2018 ZEISS Photography Competition.
Sponsored by ZEISS (Scanning electron microscopy division), the winners of the Department's annual photography competition were announced today (Thursday November 22).
First Prize was awarded to Dr Kun Li, Research Associate in the Cambridge Centre for Photonic Devices and Sensors (CPDS). His microscopic image (below) shows liquid crystal molecules between cross-polarisers. It was taken when Dr Li was examining the uniformity of the structural 'floor' of nanoscale grooves for rod-shaped liquid crystal molecules to rest on. The thin liquid crystal layer can modulate the polarised light and selectively attenuate certain wavelength ranges within the visible spectrum, producing various colours depending on the modulated phase values.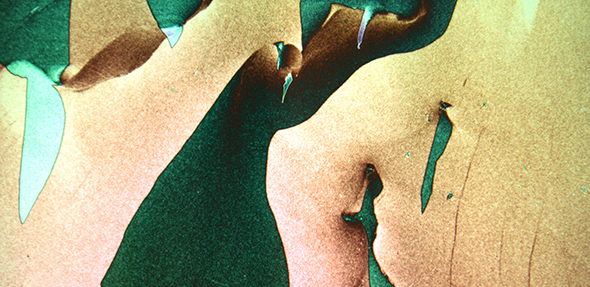 Dr Ivor Day and Dr Anna Young from the Whittle Laboratory won Second Prize with this catch-all splatterboard that shows the aftermath of multiple wind tunnel tests using paint. The flow patterns on turbine aerofoils are often visualised by applying paint to the surfaces and then blowing air over them in a wind tunnel. By using different coloured paints on different parts, it is possible to observe the movement of air on the aerofoil surface. In general, only a small fraction of the paint remains on the surface, the rest is blown downstream.
PhD candidate Cyan A. Williams' image of multiple colours drawn from natural materials secured Third Prize. Cyan's work in the Cambridge Graphene Centre aims to functionalise cellulose nanocrystals with graphene to produce coloured materials that are biocompatible, renewable and environmentally-friendly. These materials could be used for conductive inks, coloured conductive materials, visibly-responsive sensors and security paper with multiple security checks. A perfectly-ordered film would have a uniform structure and colour. The structure of the film in the image below was 'disrupted' by carbon black. However, if graphene – a two-dimensional form of carbon which conducts electricity – is used instead, it would have a lower disruptive effect. 
The most brilliant and striking colours in nature, found in beetle scales, bird feathers, berries and butterflies, occur not from pigments, but instead from the interaction of light with their internal structure. These colourful materials can be recreated in the lab from natural materials such as cellulose, as shown below.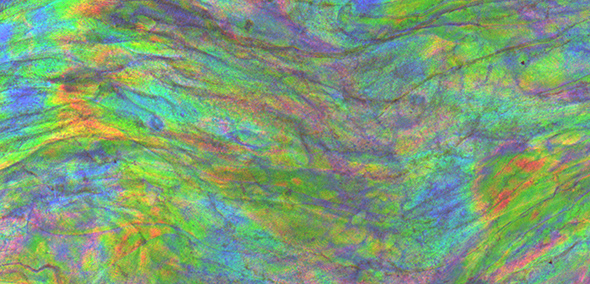 'Nanotube bouquet' (see below) won the SEM Prize. It was captured using a scanning electron microscope by Sarah Jessl, PhD student, NanoManufacturing, at the Institute for Manufacturing (IfM). A casual glance suggests the carbon nanotubes are in a ball; but actually they are in a bunch, forming a hexagonal honeycomb, which when viewed from the top appears as a symmetrical bud. The Carbon nanotubes are seamless rolled-up graphene sheets which have extraordinary mechanical and electrical properties. Organising these nanotubes into specific structures allows researchers to tweak their properties to certain applications such as energy storage and sensors.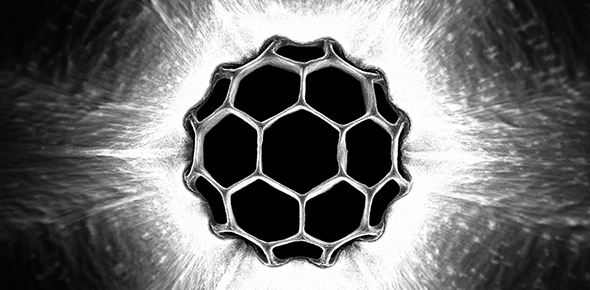 Alumnus Hannis Whittam won the Head of Department Prize with a photo taken during the construction of a new pedestrian suspension bridge. In 2015, Hannis travelled to rural Rwanda with colleagues from global consulting company COWI. Over a period of two weeks, they worked with the NGO Bridges to Prosperity (B2P) and the local community to construct the bridge. The local community shared stories about their children and friends who, on their return home from school during the rainy season, had been swept off the existing crossing and drowned. Beneath the new bridge you can see the pre-existing crossing still in use – a narrow steel beam that got swept away every time the heavy rains came. This is Hannis' favourite photo. "I love the contrast between the old and new bridges, and the number of locals in the shot show just how busy the river crossing is," he said.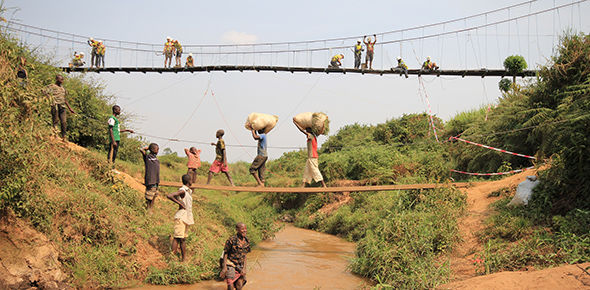 The photo competition, sponsored by ZEISS (Scanning electron microscopy division), international leaders in the fields of optics and optoelectronics, has been held annually for the last 14 years. The panel of judges included Roberto Cipolla, Professor of Information Engineering; Allan McRobie, Professor of Structural Engineering; Dr Kenneth Png, Senior Applications Engineer at ZEISS Microscopy Customer Centre Cambridge; Dr Claire Barlow, interim Head of Department; and Philip Guildford, Director of Strategy and Operations. 
"The competition celebrates the range and reach of engineering in dazzling images: in one photograph we see an exquisite nanoscale structure created in our clean rooms and, in the next, an elegant bridge built from scratch in rural Rwanda," said Philip Guildford. "The creativity and impact of our staff, students and alumni seems boundless."
More of this year's shortlisted images and video are available to view here. The remainder can be seen on the Department's Flickr page.